GPX.DC
MODEL GPX.DC (DUAL CHAMBER) PRECISION DISC-STYLE COFFEE GRINDER
---
Application
Espresso (200 – 450 μm): Up to 220 lb/hr (100 kg/hr)
Filter (500 – 1,000 μm): Up to 500 lb/hr (225 kg/hr)
Capacity
Up to 500 lb/hr (225 kg/hr)
Sections
1
Request a Quote
Download Data Sheet (PDF)
---
Product Description
The Model GPX-DC features two identical grinding chambers in one grinder design. Dedicate sides for organics, decafs, flavors or more without having to worry about clean-out or cross-contamination. The GPX.DC uses 5.5 inch diameter "diamond hard" grinding discs that are precision-cut to optimize cutting action with infinite adjustment control, resulting in a cool, uniform coffee grind for optimal brew performance.
Features
---
Two identical grinding chambers
Designed for fast and easy clean-out
Simple maintenance and operation
Specially-engineered discs for optimal grind uniformity and minimal heat
Sharp teeth and ultra-hard metal alloys for performance and disc longevity
8 lb capacity stainless steel hoppers standard; 25 lb and 50 lb capacity hoppers available
Bag holder tray
Available Options
---
Alternative hopper sizes and construction (stainless steel)
Large tote container for ground product collection
Hopper grate magnet
Economical disc re-sharpening
Have a GPX support question?
We love helping our customers. We've made a dedicated resource page for GPX owners to quickly get answers to how to clean it, calibrate and replace burrs, or adjust the dechaffing gate.
Related Grinders
---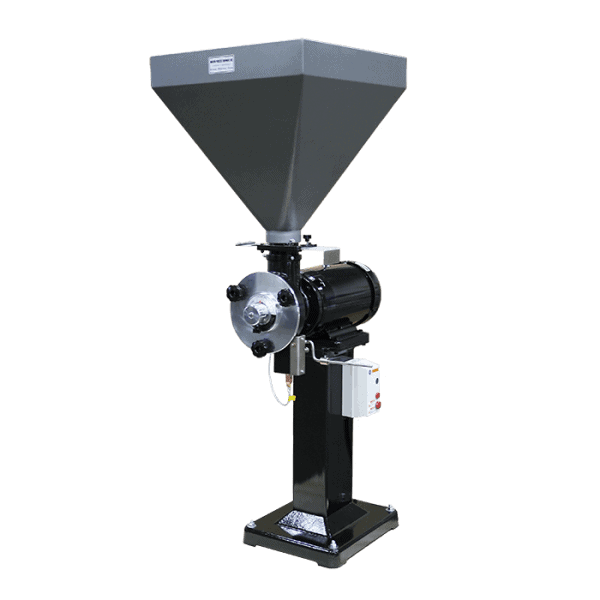 GPC-140
---
The Model GPC-140 is an industrial disc-style grinder designed to run continuously and deliver a superior coffee grind.
GPX.WCI
---
The Model GPX-WCI is the ultimate disc-style coffee grinder.