Tubular Drag Conveyors by Chain-Vey®
Tube chain conveyor systems move products gently, efficiently, horizontally and vertically in dust-tight tubes without product degradation or declassification.
Chain-Vey tube drag conveyors (also called tubular drag conveyors or disc conveyors) are completely customizable conveyor systems, built to each user's specific needs. Large scale food and bulk solids producers choose Chain-Vey for transporting across large spaces, between floors, or even between buildings; all the while protecting their products from degradation, separation, sifting, and exposure to the elements. Smaller scale producers choose Chain-Vey drag conveyors because of its ease of use, low maintenance, and compact footprint that can go between tight spaces. All users can change over ingredients without risk of cross-contamination of flavors or food allergens, which is why co-packers choose Chain-Vey as well.
Collectively our customers have installed thousands Chain-Veys throughout the world, including every major continent.
Key Benefits
Move product in virtually any direction, even between facilities
Near-zero product breakage and degradation
Bi-directional transport with multiple inlets and discharges
Air-tight protection of your product
Clean-In-Place fully-automated options
FDA food-grade and sanitary design
Ultra-high strength hardened alloy and stainless steel chains
An Ideal Conveyor for Foods and Bulk Solids
---
Chain-Vey tubular drag conveyors can move almost any wet or dry food, powder, and bulk solid.
FLEXIBLE, ROBUST, AND EYE-CATCHING DESIGNS
All of our tubular drag conveyor systems are robust, sanitary, gentle, and quiet. The robust, low-friction disks are designed for lower maintenance costs and energy consumption. Chain-Vey offers both standard Quiet Pucks and High-Efficiency Pucks for special applications.
Chain-Vey Users
Cable to Chain-Vey Retrofit
Cable tube conveyor owners can replace their worn cables with new chain and discs as part of our retrofit kit. The kit is a simple and cost-effective solution to elevate the strength and reliability of an existing conveyor by using an unbreakable chain and application-specific optimized discs.
STRESS-FREE, AUTOMATED CLEAN-IN-PLACE OPTIONS
Tube conveyor systems offer a wide array of cleaning options built around your product needs. This is why our tube conveyors are preferred in many industries with critical sanitation requirements, passing all swab tests including ATP, Aerobic Plate Count, Coliform, and Bi-Luminous.
Frequently Asked Questions
Are your tubular drag conveyors stock systems or custom designed?
Chain-Vey conveyors are custom designed for your layout. We offer some examples of common drag conveyor layouts on our designs pages. But the actual layout is tailored to your existing or desired placement of your equipment. Your sales engineer will likely ask for a drawing of your desired layout to make you an accurate quote.
Why should I get a Chain-Vey over other conveyor types/manufacturers?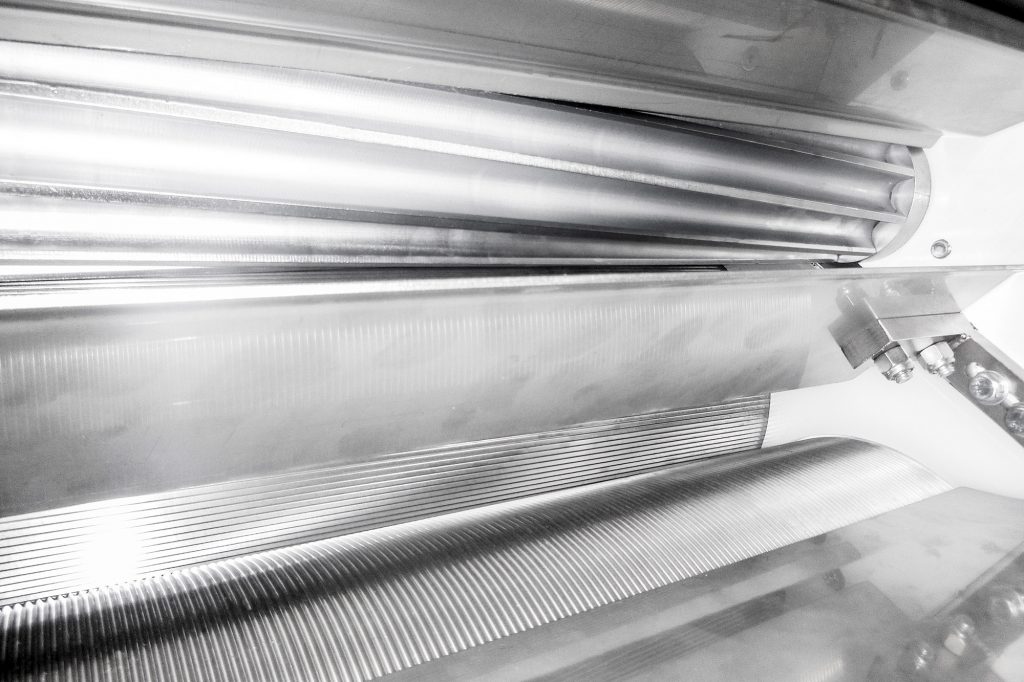 Featured Articles
Modern Process Equipment Corporation President Daniel Ephraim and Director of Business Development Scott Will explain MPE's complete plant systems for capsule manufacturing. Since 1957, Modern Process Equipment (MPE) has been dedicated to leading in the invention, development, and manufacturing of the global coffee industry's most advanced processing equipment, including offerings into value for customers through
View all Chain-Vey articles
Join MPE at the Almond Conference in Sacramento, CA to learn about Chain-Vey, our tubular drag conveyor and our Process Systems division for all your almond conveying and system process design needs. No matter the form of almond you are processing, in-shelled, shelled, dry roasted, or even almond powder or flour, Chain-Vey is one of
View all Chain-Vey articles
Hall 22P Booth F64 G66 Oct 13-17 Milan, Italy Join MPE at Host Milan in Milan, Italy to learn about all we have to offer for the coffee industry. MPE has three major division to support the coffee industry including: Gourmet & Industrial Coffee Grinders – Coffee grinding is a crucial step in coffee processing
View all Chain-Vey articles