Particle Size Reduction Equipment
Every day millions of people use products we've had a hand in producing without realizing it. MPE manufactures industrial size reduction equipment critical for the production of many food, chemical, and mineral (FCM) goods and products.
Our state-of-the-art Gran-U-Lizers™ produce the most accurate particle size distributions that improve product yields and reduce unwanted fines. From cereal and peanuts to quartz and zinc, our grinding equipment can grind anything for commercial and industrial settings.
Key Benefits
Rolls that accurately cut and sheer product down to specific particle sizes—not crush
Reduce size to anywhere between 4 to 325 mesh or 4,760 to 50 microns
Less fines produced, meaning better yields and more profit
Complete CIP designs available
FDA food-grade and sanitary designs
FCM Size Reduction Equipment
---
Industry Leading Technology
MPE is the leading manufacturer of size reduction machines because of our countless innovations and features. Many aspects of our Gran-U-Lizers are chosen based on the intended grind application—including roll corrugations, speed ratios, hermetically sealed design, and others.
Size Reduction Equipment Technological Features
---
Wide Range of Roll Compositions
---
Rolls can be made out of stainless and hardened steels, with special coatings, as well as ceramic materials; whatever is best suited for your application and to maximize roll life.
Automation Capabilities
---
Complete automation, with repeatability.
Completely Food Grade Materials
---
From the use of UHMW and stainless steel materials, your grinder can be made to exacting specifications.
Optional Hermetically Sealed Design
---
Grinding spices or materials that may be irritants is no longer an issue with hermetically sealed designed available for our size reduction machines.
EXCHANGE HEAD AND ROLL RESHARPENING
---
MPE's renowned Exchange Head Program provides customers with completely reconditioned "as new" grinding heads in exchange for their worn units.
Grind Testing
---
MPE is fully-equipped to test your product to determine the best grinder configuration to meet your specifications.
More About Grind Testing
---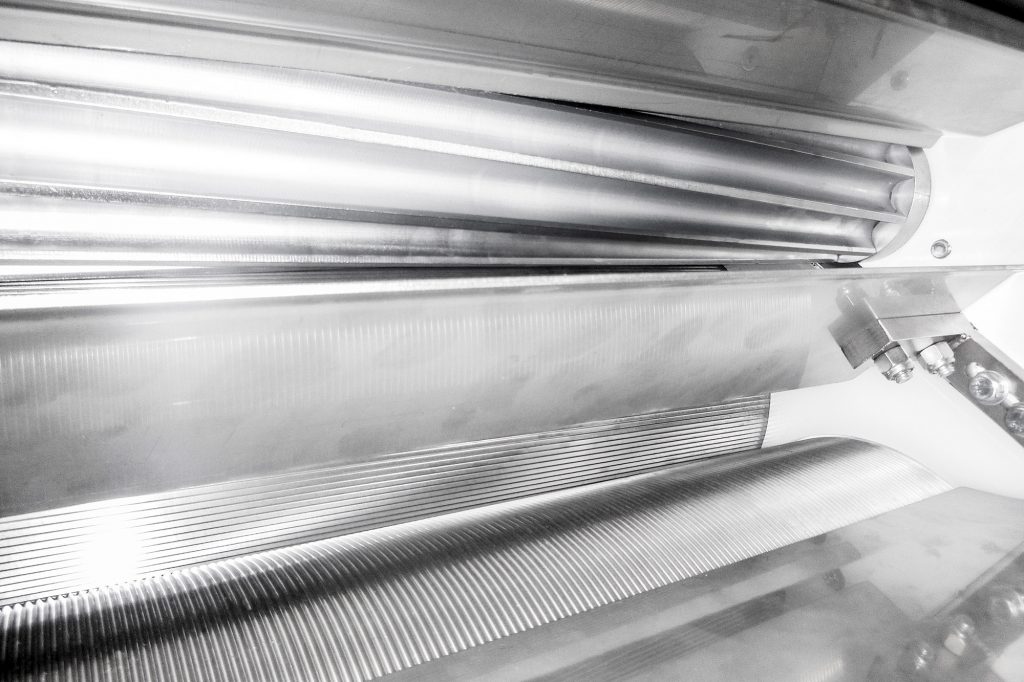 Featured Articles
Keeping complex equipment running is important, but not easy. So when travel or timelines don't allow you to bring a technician on-site, you can bring in an MPE virtual technician instead. It is a fast, organized, and effective way to make your local team trained experts. With MPE's Virtual Support, your personnel can interface live
View all Food, Chemical, & Mineral articles
Let's be honest, spent grain removal is often an afterthought when designing and starting up your brewhouse. From spec'ing out tanks and sourcing ingredients to dialing infiltrations systems and carbonation, spent grain disposal is the last thing on everyone's mind…until it's time to remove it. For smaller operations, manually loading and storing BSG in drums
View all Food, Chemical, & Mineral articles
The topic of gentle conveyance in the production of finished foods, and any application where degradation is a high-value loss for plant managers, is fraught with misinformation and unsubstantiated claims. Tubular drag conveyors are a type of enclosed, dust-tight, space-saving and fully customizable conveyor system popular among many of the world's leading finished food processors.
View all Food, Chemical, & Mineral articles