Particle Size Reduction Equipment
Every day millions of people use products we've had a hand in producing without realizing it. MPE manufactures industrial size reduction equipment critical for the production of many food, chemical, and mineral (FCM) goods and products.
Our state-of-the-art Gran-U-Lizer™ and Crack-U-Lator® equipment produce the most accurate particle size distributions that improve product yields and reduce unwanted fines. From cereal and peanuts to quartz and zinc, our grinding equipment can grind anything for commercial and industrial settings.
Gran-U-Lizers accurately cut and sheer product down to specific particle sizes—not crush

Crack-U-Lators produce narrow particle distributions with a controlled cracking process between longitudinal and/or circumferential cuts on mating rolls
Key Benefits
Reduce size to anywhere between 4 to 325 mesh or 4,760 to 50 microns
Less fines produced, meaning better yields and more profit
Complete CIP designs available
FDA food-grade and sanitary designs
FCM Size Reduction Equipment
---
Industry Leading Technology
MPE is the leading manufacturer of size reduction machines because of our countless innovations and features. Many aspects of our Gran-U-Lizers are chosen based on the intended grind application—including roll corrugations, speed ratios, hermetically sealed design, and others.
Size Reduction Equipment Technological Features
---
Wide Range of Roll Compositions
---
Rolls can be made out of stainless and hardened steels, with special coatings, as well as ceramic materials; whatever is best suited for your application and to maximize roll life.
Automation Capabilities
---
Complete automation, with repeatability.
Completely Food Grade Materials
---
From the use of UHMW and stainless steel materials, your grinder can be made to exacting specifications.
Optional Hermetically Sealed Design
---
Grinding spices or materials that may be irritants is no longer an issue with hermetically sealed designed available for our size reduction machines.
EXCHANGE HEAD AND ROLL RESHARPENING
---
MPE's renowned Exchange Head Program provides customers with completely reconditioned "as new" grinding heads in exchange for their worn units.
Grind Testing
---
MPE is fully-equipped to test your product to determine the best grinder configuration to meet your specifications.
More About Grind Testing
---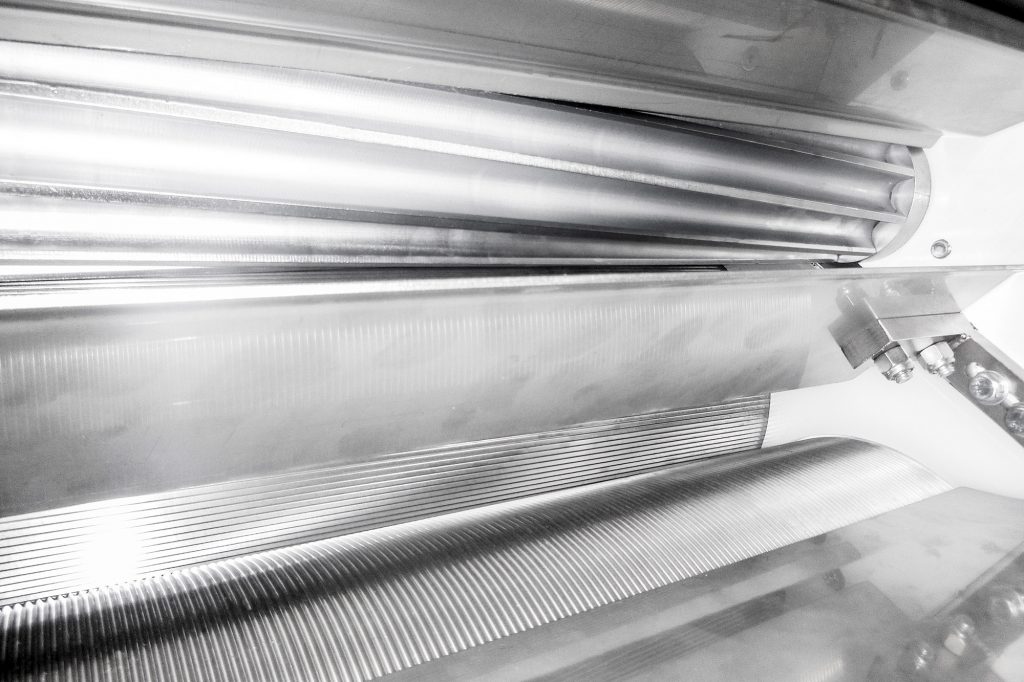 Featured Articles
A leading global manufacturer of colors, flavors, and other specialty food ingredients contacted MPE, interested in updating their older roller grinder. This roller grinder was used to resize thin candy sheets into smaller chunks and pieces, but was outdated and not producing a high yield of quality product. After contacting MPE, our experienced sales engineers
View all Food, Chemical, & Mineral articles
In this case study, we explore the use of MPE's precision particle size reduction equipment for grinding silicon granules into seed for Fluidized Bed Reactors (FBRs). This process is key to producing an extremely pure silicon at a fraction of the energy when compared to other refining methods. An MPE engineered Gran-U-Lizer with special ceramic
View all Food, Chemical, & Mineral articles
CHICAGO, IL — MPE, the world leader in tubular conveyance technology, precision particle size reduction, and complete dry process engineering, invites you, our customers, to visit us at our booth at Pack Expo 2023 in Las Vegas! MPE's booth this year is SU-7525. Our team is bringing a live Chain-Vey demonstration unit, showcasing the gentle
View all Food, Chemical, & Mineral articles