SRM 4555
MODEL SRM-4555 ROLLER-STYLE COFFEE GRINDER
---
Application
Filter (500 – 1,000 μm): Up to 600 lb/hr (275 kg/hr)
Capacity
Up to 600 lb/hr (275 kg/hr)
Sections
1
Request a Quote
---
Product Description
The SRM-4555 is the world's smallest roller-style coffee grinder, producing up to 600 lb/hr of ground coffee with an extremely uniform particle size. Utilizing the same technology as large "industrial" coffee grinders, the SRM-4555 produces grinds superior in quality to those attainable on disc-style grinders, resulting in a cool, uniform grind for optimal brew performance.
Features
---
All grinds are quickly and easily attainable with the unique "knob" grind adjustment mechanism (which can be regulated during operation)
Hopper slide gate to both shut-off and control the coffee bean supply
Safety switches
Precision-cut rollers (two pairs) for gentle coffee reduction to the exact grind
Adjustable densification/dechaffing chamber to control coffee density and eliminate chaff
Alternative hopper sizes
2 Stage Granulizer Design
---
The SRM has two pairs of granulizer rolls which can achieve the same narrow particle size distributions as larger granulizers. The first pair is a coarse corrugation and the second pair is a finer corrugation, both which shear the particles and not crack them.
Related Grinders
---
GPX.WCI
---
The Model GPX-WCI is the ultimate disc-style coffee grinder.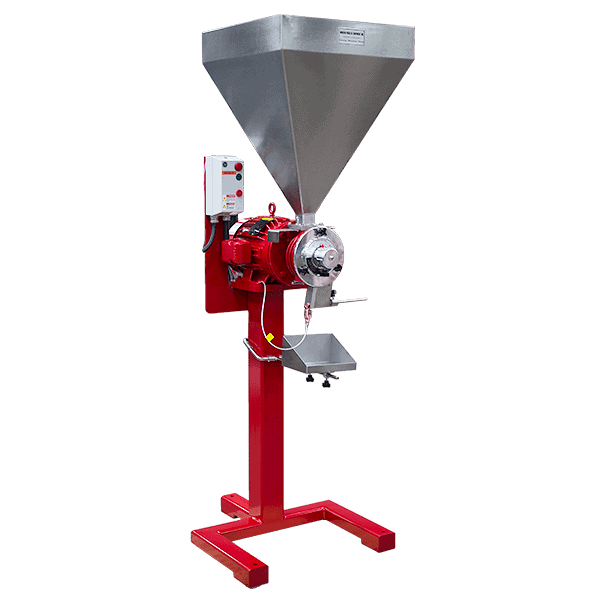 GPX
---
The Model GPX is an industrial coffee grinder designed to run continuously and deliver a superior coffee grind.
GPX.DC
---
The Model GPX-DC features two identical grinding chambers in one grinder design.