GPX.WCI
MODEL GPX.WCI (WATER-COOLING INTEGRATED) PRECISION DISC-STYLE COFFEE GRINDER
---
Application
Ultrafine (50 – 125 μm): Up to 110 lb/hr (50 kg/hr)
Espresso (200 – 450 μm): Up to 220 lb/hr (100 kg/hr)
Filter (500 – 1,000 μm): Up to 500 lb/hr (225 kg/hr)
Capacity
Up to 500 lb/hr (225 kg/hr)
Sections
1
Request a Quote
Download Data Sheet (PDF)
---
Product Description
The Model GPX-WCI is the ultimate disc-style coffee grinder. Not only does this model deliver superior grind quality for optimal brew performance, but it also keeps coffee 75% cooler than traditional disc-style grinders. Therefore, coffee volatiles and aromas are preserved and the true quality of one's coffee can be fully experienced.
Features
---
Self-contained water-cooling system
Designed for fast and easy clean-out
Simple maintenance and operation
Specially-engineered discs for optimal grind uniformity and minimal heat
Sharp teeth and ultra-hard metal alloys for performance and disc longevity
8 lb capacity stainless steel hopper standard; 25 lb and 50 lb capacity hoppers available
Bag holder tray
Available Options
---
Alternative hopper sizes and construction (stainless steel)
Large tote container for ground product collection
Hopper grate magnet
Economical disc re-sharpening
Have a GPX support question?
We love helping our customers. We've made a dedicated resource page for GPX owners to quickly get answers to how to clean it, calibrate and replace burrs, or adjust the dechaffing gate.
Easy slide adjustment
The GPX has a built-in slide gate for fast stopping and starting the flow of coffee from the hopper into the grinder.
Related Grinders
---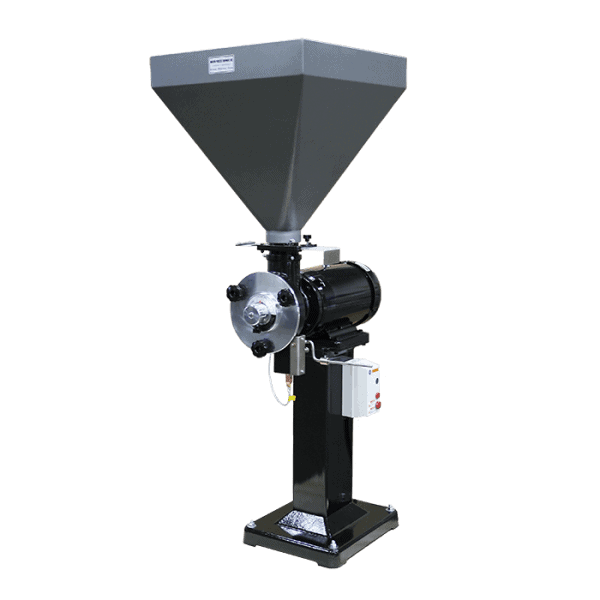 GPC-140
---
The Model GPC-140 is an industrial disc-style grinder designed to run continuously and deliver a superior coffee grind.
GPX.DC
---
The Model GPX-DC features two identical grinding chambers in one grinder design.